Wynona Palmer Retires From HCFCU After 52 Years of Service
JANUARY 19, 2021
Congratulations and Happy Retirement Wynona!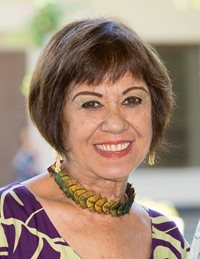 After 52 years of devoted service, Wynona Palmer has retired from the Hawaii Community Federal Credit Union (HCFCU). She is the longest tenured employee of the credit union having worked in nearly every branch of the organization and is a recipient of HCFCU's prestigious Employee of the Year award.

Dwight Manago, HCFCU Board Chair, said, "On behalf of the Board of Directors, I would like to thank Wynona for her 52 years of service at HCFCU as the most tenured employee in our 85 years of service to our community. Her retirement is well-deserved and we are happy that she will now have time to relax and enjoy time with her family."

Palmer joined the HCFCU family as a teller in 1969 when the credit union was known as Kona Community Federal Credit Union with only one office in Kealakekua. She rose to the position of Bookkeeper and was instrumental in HCFCU's conversion from a manual batch process to an on-line, real-time, electronic processing system. After that successful transition, Palmer spent 4 months in Kohala, training and transitioning the staff on the new system when the Kohala Federal Credit Union merged with HCFCU in 1982.

Missing the interaction with members, Palmer later transferred to the Kailua Branch as a senior teller and was later promoted to an Operations Officer. Once again, her experience facilitated the branch conversion to a new and improved core system. She later transferred to the Visa Dept to further expand her knowledge of the credit union operations. In 2006, the Visa Department relocated to the new HCFCU headquarters in the John Y. Iwane Credit Union Center in the Kaloko Light Industrial area where Palmer worked until her retirement.

When asked what motivated her half a century long career, Palmer said, "They say that you find a second home somewhere, and my second home is here at Hawaii Community Federal Credit Union. To all the wonderful people whom I have had the opportunity to work with over the past 52 years - Mahalo. The good times shared,
friendships forged, and the incredible successes which we have enjoyed, have been an extraordinary part of my life that I will never forget".

In addition to Palmer's service to HCFCU, she has been a member of the Ahahui Ka'ahumanu o Kohala – Helu Eiwa for 21 years and a volunteer at the Kona Coffee Cultural Festival's Ho'olaulea event.

"For those of us that know Wynona personally and professionally, we admire her not only for her exceptional service and dedication to serving our members, but also for her personal lifetime values as a devoted wife, mother, grandmother and great-grandmother," said HCFCU President and CEO, Tricia Buskirk. "Her years of experience and dedicated service will be missed by members and colleagues alike. Her absence at our Kaloko facility will be felt but she will always be part of our HCFCU family and we wish her the best in her retirement."

Retirement plans for Palmer include enjoying her family, traveling, playing golf and a possible return to the Great Aloha Run which she participated in for four consecutive years.
Frequently Asked Questions
Phone Numbers

Lost/Stolen VISA®

Mailing Address:
73-5611 Olowalu Street, Kailua-Kona, HI 96740

Hawaii Community Federal Credit Union's routing number is 321379818.

We offer notary serives at all our branches. We recommend you call ahead to schedule an appointment at
808-930-7700
.
We all want peace of mind when it comes to keeping our hard-earned money in savings accounts. Your Hawaii Community Federal Credit Union accounts are safe with us and insured by the NCUSIF for up to $250,000. If you need insurance beyond that amount, we'll help you structure your account so you can get additional coverage. Keep in mind our IRA accounts are insured separately up to $250,000, too.


Yes, Hawaii Community Federal Credit Union participates in shared branching. Whenever you're traveling on the mainland, you can still get easy access to your Hawaii Community Federal Credit Union account through our partnership with the CO-OP Network.
Locate
a shared branch online or by calling
888-748-3266
.
Tools & resources for you.