HCFCU Raise Nearly $49,000 for Most Vulnerable
NOVEMBER 18, 2020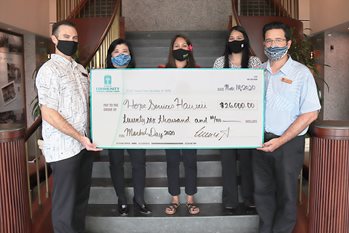 From L-R: Ryan McGrady, HCFCU VP of Operations; Tricia Buskirk, HCFCU CEO/President; Brandee Menino,
HOPE Services Hawaii CEO; Kristy Akao, HCFCU Marketing Coordinator & Market Day Event Chair;
Jason Ayers, HCFCU VP of Lending.
Hawaii Community Federal Credit Union is proving there is nothing stronger than the power of community after raising $48,924 in donations during its annual Market Day events in October. The funds will go to two dedicated non-profit organizations making a significant impact in the community – HOPE Services Hawaii, Inc. and the Children's Miracle Network.
"Our Hawaii Island community is driven by the true spirit of that word - community. No matter how tough times may be, or the challenges we face, we come together to help one another in big and small ways," said Tricia Buskirk, HCFCU President and CEO. "Coming together in times of need is fundamental to who we are and who we strive to be."
HOPE Services Hawaii, Inc.—an outreach organization assisting the homeless and those displaced by personal or natural disasters—will receive $26,000 of the donations. While the COVID pandemic shifted the way in-person donations were collected, it did not diminish the generosity of participants. Local businesses donated 10 percent of a dedicated day of sales to HOPE Services Hawaii while others offered pre-sales on special items. Credit union employees sold commemorative ribbons to raise additional money.
Since 2018, Market Days events have raised more than $82,000 for the HOPE Services Hawaii, Inc. This is the third and final year of the Triennial Social Responsibility Partnership between Hawaii Community Federal Credit Union and the non-profit.
The dedication of the credit union's immediate and extended ʻohana also resulted in a $22,924 donation to Children's Miracle Network and Kapiʻolani Medical Center for Women and Children. Employees pledged nearly $20,000 during the credit union's annual giving drive and raised another $1,000 on its "Miracle Jeans Day." An additional $2,200 was matched by CO-OP Financial Services' CO-OP Miracle Match program.
About Hawaii Community Federal Credit Union
Hawaii Community Federal Credit Union is a not-for-profit, federally insured financial institution owned by its 42,000 members. HCFCU has branches in Hilo, Honokaʻa, Kailua-Kona, Kaloko, Kealakekua, and Kohala. Additionally, HCFCU has Student Credit Unions in Kealakehe, Kohala and Konawaena High Schools. HCFCU provides mortgage, land, construction, small business, education, personal and auto loans, as well as complete checking and savings services, drive up tellers; credit and debit cards with rewards; online and mobile banking; investment services and youth programs. The credit union prides itself on its support of numerous Hawaii Island non-profit organizations and community events. Membership in Hawaii Community Federal Credit Union is open to all Hawaii Island residents. For more information visit
www.hicommfcu.com
.
Frequently Asked Questions
Phone Numbers

Lost/Stolen VISA®

Mailing Address:
73-5611 Olowalu Street, Kailua-Kona, HI 96740

Hawaii Community Federal Credit Union's routing number is 321379818.

We offer notary serives at all our branches. We recommend you call ahead to schedule an appointment at
808-930-7700
.
We all want peace of mind when it comes to keeping our hard-earned money in savings accounts. Your Hawaii Community Federal Credit Union accounts are safe with us and insured by the NCUSIF for up to $250,000. If you need insurance beyond that amount, we'll help you structure your account so you can get additional coverage. Keep in mind our IRA accounts are insured separately up to $250,000, too.


Yes, Hawaii Community Federal Credit Union participates in shared branching. Whenever you're traveling on the mainland, you can still get easy access to your Hawaii Community Federal Credit Union account through our partnership with the CO-OP Network.
Locate
a shared branch online or by calling
888-748-3266
.