HCFCU Appoints Facilities Manager
MAY 10, 2023
Welcome David!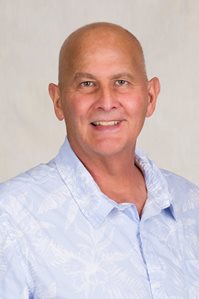 Hawaii Community Federal Credit Union (HCFCU) is pleased to announce the hiring of David Huerta as Facilities Manager. With over 40 years of experience in the construction industry, Mr. Huerta brings a wealth of knowledge and expertise to HCFCU.

In his new role, Huerta is responsible for ensuring all Credit Union facilities are safe, compliant, well-maintained, accessible, and comfortable for employees and members. This includes developing a preventative maintenance program, performing on-site inspections and routine maintenance, testing alarm systems, and coordinating with vendors and contractors.

"We are delighted to have David Huerta join the team as our new Facilities Manager," said Tricia Buskirk, President & CEO at HCFCU. "With David's extensive experience in construction and project management, we know our facilities are in excellent hands and will continue to be a safe, comfortable, and welcoming environment for our members and staff."

Huerta holds a bachelor's degree from Southern Oregon State University and served as Acting 1st Sergeant in the Marine Corps from 1979-1992. He went on to serve as Infantry Platoon Leader for the Oregon Army National Guard from 1992-1994. Huerta comes to HCFCU from TMS Construction, where he most recently served as Senior Project Manager and managed construction for projects in Waikoloa and Hualalai Resort. He also worked with Tinguely Development on the design build for HCFCU Headquarters in Kaloko.

In his free time Huerta is a dedicated volunteer, having served as Transition Director for the IRONMAN World Championship for over 18 years. He is also an active member of the Kona Community Development Action Committee.

Hawaii Community Federal Credit Union is a not-for-profit, federally insured financial institution owned by its 46,700 members. HCFCU's branches are located in Hilo, Honokaa, Kailua-Kona, Kaloko, Kealakekua, and Kohala. Additionally, HCFCU has Student Credit Unions in Hilo, Kealakehe, Kohala and Konawaena High Schools. HCFCU provides service minded financial professionals that will help facilitate mortgage, land, construction, small business, education, personal and auto loans. HCFCU also offers complete checking and savings services, drive up tellers; credit and debit cards with rewards; online and mobile banking; investment services and youth programs. HCFCU also supports numerous Hawaii Island non-profit organizations and community events. Membership in Hawaii Community Federal Credit Union is open to all Hawaii Island residents. For more information visit www.hicommfcu.com.
Frequently Asked Questions
Phone Numbers

Lost/Stolen VISA®

Mailing Address:
73-5611 Olowalu Street, Kailua-Kona, HI 96740

Hawaii Community Federal Credit Union's routing number is 321379818.

We offer notary serives at all our branches. We recommend you call ahead to schedule an appointment at
808-930-7700
.
We all want peace of mind when it comes to keeping our hard-earned money in savings accounts. Your Hawaii Community Federal Credit Union accounts are safe with us and insured by the NCUSIF for up to $250,000. If you need insurance beyond that amount, we'll help you structure your account so you can get additional coverage. Keep in mind our IRA accounts are insured separately up to $250,000, too.


Yes, Hawaii Community Federal Credit Union participates in shared branching. Whenever you're traveling on the mainland, you can still get easy access to your Hawaii Community Federal Credit Union account through our partnership with the CO-OP Network.
Locate
a shared branch online or by calling
888-748-3266
.
Tools & resources for you.