Hawaii Community Federal Credit Union Receives KKCC Pualu Award for Holomua Hawaii Program
AUGUST 09, 2021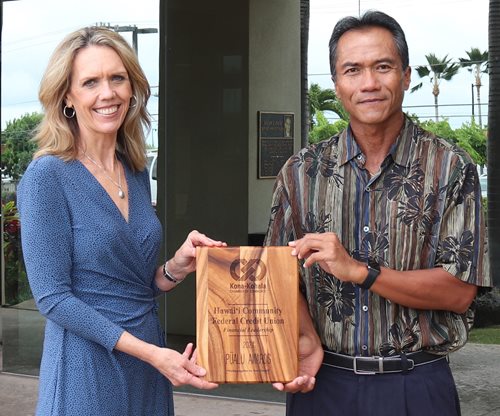 From L-R: Wendy Laros, President/CEO, Kona-Kohala Chamber of Commerce, Mel Ventura, Executive Vice President of Member Services, Hawaii Community Federal Credit Union

Hawaii Community Federal Credit Union (HCFCU) was awarded the Pualu Award for Financial Leadership for its service to the community through the Holomua Hawaii grant program. The Pualu Award is presented by the Kona-Kohala Chamber of Commerce to businesses, organizations, and individuals who work together for West Hawaii to provide business leadership and community service. Pualu, which is a variation of the word puwalu, means working in unison.
"Holomua Hawaii was the embodiment of pualu and it aligned perfectly with HCFCU's commitment to the community," said Mel Ventura, HCFCU Executive Vice President of Member Services, who spearheaded the effort. "Our credit union worked in unison with our fellow credit unions to provide a lifeline to many of our local small businesses when they needed that kokua the most. Community is the heart of our credit union, and it was a privilege to lead Holomua Hawaii."
The Holomua Hawaii grant program was funded through the federal Coronavirus Aid, Relief, and Economic Security Act, also referred to as the CARES Act. Hawaii County selected HCFCU to lead a team of six credit unions for the program. Between September and December of 2020, qualified applicants received $23 million in aid.
2,510 Hawaii Island businesses and non-profits with 50 employees or less each received up to $10,000 through Holomua Hawaii. Recipients could use the funds to support core operations, safe on-going and reopening costs, purchasing personal protective equipment, training, and technical assistance.
HCFCU is a not-for-profit, federally insured financial institution owned by its 44,800 members. HCFCU's branches are located in Hilo, Honokaa, Kailua-Kona, Kaloko, Kealakekua, Kohala. Additionally, HCFCU has Student Credit Unions in Hilo, Kealakehe, Kohala, and Konawaena High Schools. In addition to financial services from checking and savings, HCFCU provides service-minded financial professionals to help facilitate mortgage, land, construction, small business, educational, personal and auto loans; drive up tellers; credit and debit cards with rewards; online and mobile banking; investment services and youth programs. HCFCU also supports numerous Hawaii Island non-profit organizations and community events. Membership in Hawaii Community Federal Credit Union is open to all Hawaii Island residents. To learn more visit
www.hicommfcu.com
.
Frequently Asked Questions
Phone Numbers

Lost/Stolen VISA®

Mailing Address:
73-5611 Olowalu Street, Kailua-Kona, HI 96740

Hawaii Community Federal Credit Union's routing number is 321379818.

We offer notary serives at all our branches. We recommend you call ahead to schedule an appointment at
808-930-7700
.
We all want peace of mind when it comes to keeping our hard-earned money in savings accounts. Your Hawaii Community Federal Credit Union accounts are safe with us and insured by the NCUSIF for up to $250,000. If you need insurance beyond that amount, we'll help you structure your account so you can get additional coverage. Keep in mind our IRA accounts are insured separately up to $250,000, too.


Yes, Hawaii Community Federal Credit Union participates in shared branching. Whenever you're traveling on the mainland, you can still get easy access to your Hawaii Community Federal Credit Union account through our partnership with the CO-OP Network.
Locate
a shared branch online or by calling
888-748-3266
.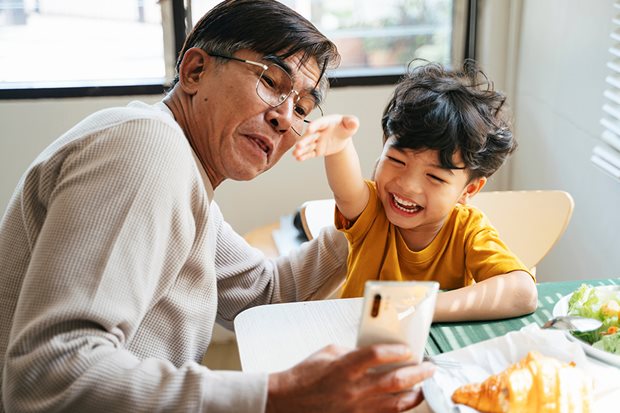 Membership Benefits
A better home for your money.
Enjoy personalized service, low fees, higher deposit rates and more.