Hawaii Community Federal Credit Union Raises Over $17,000 for the American Cancer Society
OCTOBER 27, 2021
American Cancer Society Fundraiser 2021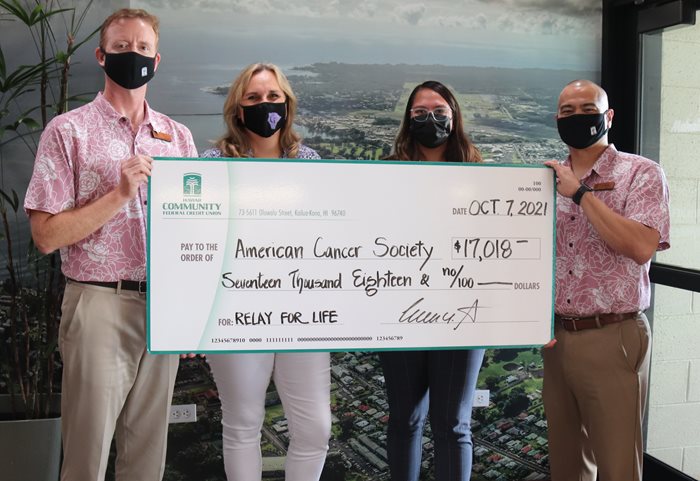 Real Men Wear Pink Ambassador - Tim Ashcraft, Honokaa & Kohala Branch Manager, HCFCU; Sarah Luchenbill, Associate Director, American Cancer Society; McKenna Ventura, Marketing Coordinator, HCFCU; Real Men Wear Pink Ambassador - Tyson Klask, Hilo Branch Manager, HCFCU.
The pandemic could not stop Hawaii Island residents from donating to Relay For Life and the American Cancer Society's mission to advance cancer research and innovation. Thanks to the generosity of supporters, Hawaii Community Federal Credit Union (HCFCU) raised $17,018 — surpassing its goal during Relay For Life events in 2021.
"Cancer is personal. Everyone knows someone who has been diagnosed with the incurable disease," said Tricia Buskirk, President & CEO of HCFCU. "Every year, we strive to honor those lost to cancer and cancer survivors, and our members and employees show their commitment to finding a cure through their fundraising efforts. We are honored to help the cause in any way we can."
Each HCFCU branch sold ribbons, cookbooks ("Healthy Lifestyle" and "Easy Does It"), and luminaria. Staff members also wore Relay for Life shirts every Friday in August to raise awareness.
This year's Relay for Life theme was "Passport of Hope." Events were held in Hilo and Kona, in July and August, respectively, and included the hallmark Luminaria event— which transformed into a drive-thru this year to comply with COVID-19 guidelines. The Luminaria served as a tribute to those who lost their lives to cancer, those battling the disease, and offered hope in the search for a cure.
Born out of the fundraiser's pandemic transformation, a highlight of this year's Luminaria was the trunk show competition that challenged competitors — including HCFCU employees from its Hilo, Kailua-Kona, Kealakekua, and Kohala & Honokaa branches — to create displays showcasing an international destination of their choice.
"Although this year's Relay for Life events had to be adjusted due to COVID restrictions, our employees demonstrated incredible creativity, taking us from Japan, Paris, the Philippines, and even to the ʻninth island,' Las Vegas," said Buskirk. "Their passion for this event demonstrates their commitment to fighting cancer and supporting the American Cancer Society." Photos of their displays are available for download here.
HCFCU is a not-for-profit, federally insured financial institution owned by more than 45,000 members. HCFCU's branches are located in Hilo, Honokaa, Kailua-Kona, Kaloko, Kealakekua, and Kohala. Additionally, HCFCU has Student Credit Unions in Hilo, Kealakehe, Kohala and Konawaena high schools.
In addition to financial services from checking and savings, HCFCU provides serviceminded financial professionals to help facilitate mortgage, land, construction, small business, educational, personal and auto loans; drive-up tellers; credit and debit cards with rewards; online and mobile banking; investment services; and youth programs. HCFCU also supports numerous Hawaii Island non-profit organizations and community events.
Frequently Asked Questions
Phone Numbers

Lost/Stolen VISA®

Mailing Address:
73-5611 Olowalu Street, Kailua-Kona, HI 96740

Hawaii Community Federal Credit Union's routing number is 321379818.

We offer notary serives at all our branches. We recommend you call ahead to schedule an appointment at
808-930-7700
.
We all want peace of mind when it comes to keeping our hard-earned money in savings accounts. Your Hawaii Community Federal Credit Union accounts are safe with us and insured by the NCUSIF for up to $250,000. If you need insurance beyond that amount, we'll help you structure your account so you can get additional coverage. Keep in mind our IRA accounts are insured separately up to $250,000, too.


Yes, Hawaii Community Federal Credit Union participates in shared branching. Whenever you're traveling on the mainland, you can still get easy access to your Hawaii Community Federal Credit Union account through our partnership with the CO-OP Network.
Locate
a shared branch online or by calling
888-748-3266
.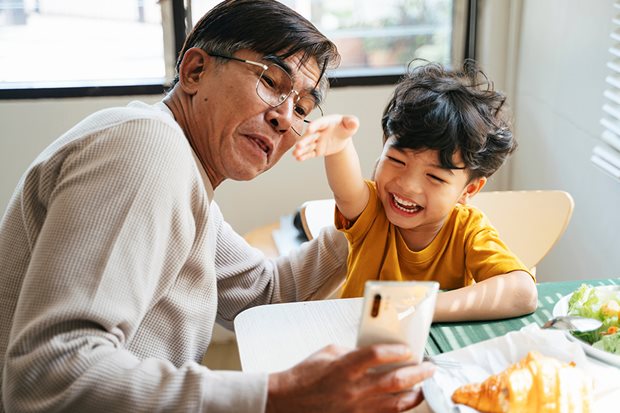 Membership Benefits
A better home for your money.
Enjoy personalized service, low fees, higher deposit rates and more.